Message from C.E.O.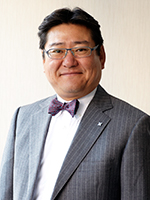 In the 88 years since our establishment in 1927, the headquarters of the company and main factory have been located in Fukushima-ku, Osaka. On August 17, 2015, we made a momentous transition in our history by relocating and centralizing our headquarters operations, domestic manufacturing facilities and technical center at one location in Yumebutai, Awaji Island in Hyogo Prefecture, Japan. At the same time, we joined a consortium of the National Institute of Advanced Industrial Science and Technology (AIST) and the Yamagata University Research Center for Organic Electronics to establish the Electrode Manufacturing Research Center. Until the creation of this new facility, PRIMIX was only able to conduct limited analysis and validation of slurry used in electrodes for batteries, but as part of this consortium with the two research organizations, we will now be able to analyze batteries themselves as well as validate their performance. In Minato-ku, Tokyo (about 5 minutes walk from Tamachi station), we also established a new test room for use in customer visits called the PRIMIXOLOGY Challenge Room, especially for our customers in Eastern Japan.
The goal of this move and our new projects is part of our goal as a company to clearly convey to our customers what the personality and identity of the PRIMIX brand is, and let them know what our employees truly stand for as PRIMIX employees. And that is, to become a business partner with a sincere, inquiring mind. In order to become such a trusted source for our customers, they must be able to count on us to be stable, reliable, surprisingly innovative and always impressive. Toward that ends, we have set forth the
PRIMIX Mission, PRIMIX Values, and the PRIMIX Way
.
If you have a mixing problem or are considering the adopting a mixing solution, by all means, please contact PRIMIX as a trusted business partner.
PRIMIX Corporation
President and C.E.O.
Hisashi Furuichi
HOME > Company Information > Message from C.E.O.